If you have a restaurant and a restaurant website to go with it, you might want to read this article. We have covered a lot of topics on this website already, but we've decided to focus a bit more on specific types of websites in a number of posts. In this post, we discuss what you need to keep in mind when planning or building your restaurant website and is for both restaurant owners and web development agencies.
Before we dive in, if you want to learn more about user experience (UX) and other essential SEO skills, you should check out our All-around SEO training! It doesn't just tell you about SEO: it makes sure you know how to put these skills into actual practice!
First things first: what needs to be on your restaurant website?
When planning a website, it will pay off to ask around and figure out what your friends and family would expect on a website like yours. For a restaurant, I think we can agree on the following things that need to be on your website:
Your address (and more). This is obviously the most important element: people need to know where you are located. There is more than one way to share your address with your (potential) guests.
Photos of the interior. If I'm going to spend my money in your establishment, I want to know I'll have a cozy evening and a nice table to sit at.
Your menu. Not your website menu, but a list of all the food and drinks you'll possibly serve me at a certain price.
Client testimonials. All the good stuff people tell me about your place.
A way to make a reservation. Obviously.
Now let's look into these aspects of a restaurant website in more detail.
Your address (and more details)
If you add your address to your website, you want to do it the right way. First of all, you want it to be in a spot where everybody can find it without searching for it. That means adding it in a clear spot on your homepage, perhaps repeat it in your footer, and definitely put it on your contact page. On your contact page, you might want to consider adding a route map as well.
Schema.org/Restaurant
Don't just add the address, but mark it up the right way. That means you'll have to add Schema.org markup to your address. The most obvious Schema.org variation would be… Restaurant. This is actually a subschema of the FoodEstablishment schema, which allows you to add detailed stuff like acceptsReservations, menu and servesCuisine to your address.
All these details are added with the purpose of telling the search engine as much as possible about your restaurant, in a predefined way. It will make sure Google easily fetches the right information. That might already get you mentions like this: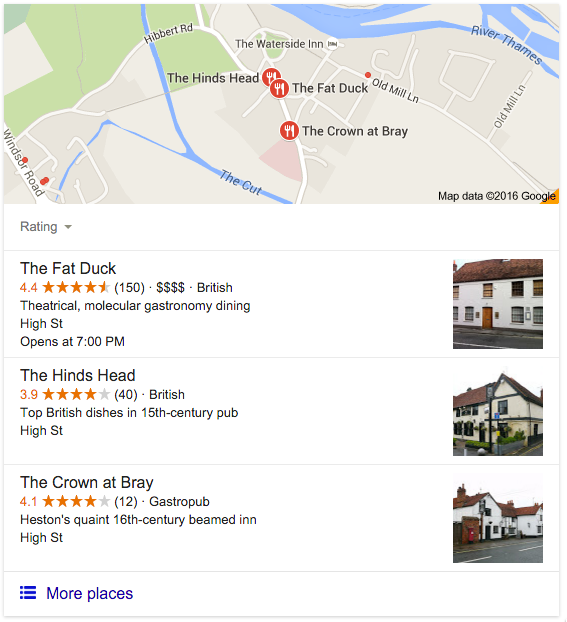 That is actually a combined effort, I think. It's a combination of listing the right information the right way on your website, and a good listing in Google My Business.
Google My Business
Never heard of Google My Business?
Google My Business complements your existing website by giving your business a public identity and presence on Google. The information you provide about your business can appear on Google Search, Maps and Google+.
Go read and list your website. Ask your visitor to leave a review on your Google My Business, as this seems to help your rankings at the Google map as shown above as well.
Google My Business might give you another edge: a proper listing in the Google search result pages' sidebar (where they keep the Knowledge Graph):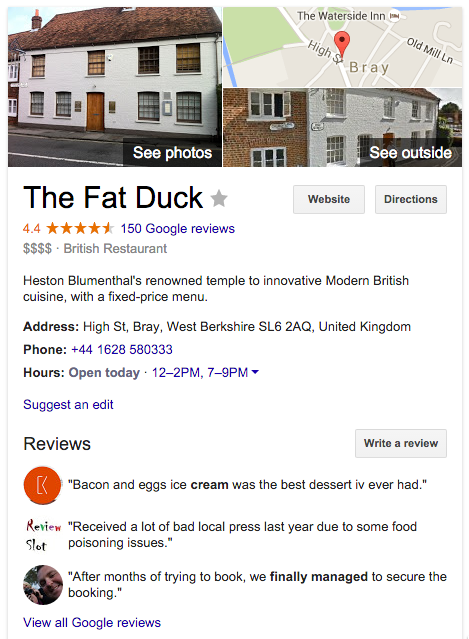 Nice, huh. Be sure to tell Google as many details as possible and see what they come up with.
Facebook Places
Like Google My Business, Facebook Places isn't on your website itself. Still, it will pay off to list your restaurant here. Facebook is improving its search engine by the day, and if there is one place where all your friends have and share their opinion, it's on Facebook.
Make sure you list your restaurant as a Place by adding all the basic information. If you list your restaurant in the Local Business category (be sure to do so), you'll be able to list:
A short description
Your website, email, phone and address
A map to your restaurant
Besides that, listing your restaurant in the local business category, you'll be able to allow check-ins and ratings & reviews and that is obviously just what you want! These check-ins and reviews are actually very important, as search results in Facebook are ranked by recommendations and check-ins from your friends. Besides that, "results that are similar to the people, places and things that a person is already connected to may be ranked higher." All the more reason to list your restaurant on Facebook as well, and ask all of your friends to like, review and check-in to your restaurant.
TripAdvisor
I'm going to name TripAdvisor here as another place to list your restaurant, but it is obviously one of many other websites you can use to list your restaurant details, like:
Especially since your restaurant is a local business, adding your website to services like that will also help your SEO, as all of these have a local focus.
After adding your website to TripAdvisor, be sure to monitor your reviews on that website. Bad reviews are always a bummer, but not acting on bad reviews might be even worse. Engage with a disappointed guest and see if you can change his opinion to something more positive. Perhaps he just had a bad day, or your chef did. Most bad reviews are mere incidents.
If you want to improve your TripAdvisor profile, be sure to read these steps to optimize your restaurant listing on TripAdvisor.
Photos of the interior
From a UX and conversion point of view, showing your interior makes a lot of sense. By showing the visitor in what great environment he or she will be dining if they come to your place, people can decide in advance if your restaurant matches the occasion. If we want to grab a quick bite, a pub-like establishment with wooden chairs and beer will do. If I have the whole evening planned for exquisite food, I might want to see chandeliers, candles, and glasses of wine.
It's all about managing expectations on a restaurant website. If your website's photos match the mood you want to set in your restaurant, first-time visitors will click to your reservations form and reserve themselves a table at your place. Don't go cheap on this. You have paid a lot of money to get the interior the way you wanted it, now pay a great photographer to take pictures for your website (and menu/posters/flyers and Pinterest, Instagram and Facebook or whatever you can use these for).
If you are looking for insights on how to add these to your website properly, please read my post on image SEO.
Show your menu on your restaurant website
You spent all these hours coming up with your monthly changing menu, and now you've just put the PDF containing your menu on your website as a link. That's ruining my user experience. I honestly don't like to click a link on a website, only to find that it opens a PDF. There's no need for that anymore as well. You can easily put your restaurant menu on a separate page on your website and link it from your website menu. You might still want to add a link to a PDF with the same content at the bottom of that page, by the way. For saving in Evernote, for instance.
As mentioned above in the Address section of this article, you could also add a link to your menu page in schema.org, just to top things off.
Testimonials
Next to the testimonials in Google My Business, be sure to add some testimonials on your website as well. That could just be one-liners spread across your website, but a decent testimonial will make that reservation easier. If other people like it, you might like it too.
We have done an article last year called Testimonials: increase your visitor's trust you should read. Although that article is mainly focused on e-commerce shops, your restaurant site will benefit from it as well. The main things to keep in mind when using testimonials: make sure they are genuine testimonials. Add the name of the reviewer, preferably a photo as well. And don't be afraid to list these on a prominent spot on your website. It's others doing marketing for you. Google lists them, as you can see in the above, so why would you hide these on a single page instead of listing them right below your reservations button?
One last thing: reservations
I already mentioned the option to add via schema.org if making a reservation is possible on your restaurant website. Would this have any influence on your rankings? Probably not. But if I need to make a reservation before eating at your restaurant, I want to know. And I want to be able to do this online.
Making a reservation online should be easy as pie. Enter your details, get a clear 'sent!' message and an email confirming your reservation. What you don't want (true story) is an email afterwards that the restaurant is closed on the desired day. In my book, I shouldn't be able to make a reservation for that day in the first place. In conclusion: make sure people are able to make a reservation via your restaurant website, but only when possible and always make sure there is a clear communication afterwards.
That concludes this article on how to optimize your restaurant site. If you have (an example of) a restaurant website that nails this, I would like to invite you to leave the URL of that website in the comments!
Read more: 5 things you are doing wrong »
The post How to optimize your restaurant website appeared first on Yoast.