The Yoast SEO plugin helps you to easily optimize the text of your posts and pages. People use it to try and get higher rankings. But unfortunately, perfectly optimizing your post does not magically put it at the top of the search results. So, if your perfectly optimized post isn't ranking, what could be the matter? What is keeping your content from reaching that coveted #1 position? In this post, I'll discuss five reasons why content doesn't rank, even though it has been optimized with the Yoast SEO plugin.
1. There's too much competition
In most cases, the reason a post doesn't rank is that there's simply too much competition. If you optimize your blogpost for competitive keywords and keyphrases, such as [cat behavior], [robot vacuum cleaner], or [real estate agent], chances are high you won't rank for that term.
To find out if this is the problem, check the results pages for your keyword. Do high authority sites, such as Wikipedia or Amazon, dominate the first page? Do you see many sites that have already firmly established themselves in this niche? Odds are, your site doesn't have the authority that these other sites have (yet). So you can optimize all you want, but unfortunately, that's not enough to rank high in the search results if your niche is too competitive.
How to fix it:
If you want to rank for highly competitive terms, you should try a long tail keyword strategy. Write blog posts that target related long tail keywords and phrases before tackling the competitive keywords. If these long tail articles start ranking, you'll be able to rank for more competitive terms as well. Such a strategy requires long-term efforts, but in the end, it will pay off.
Read more: Why you should focus on long tail keywords »
2. Your site has technical issues
If your post doesn't show up in the search engines at all, technical issues could be preventing it from appearing in the search results. You could have conflicting plugins causing problems, and we've also seen some themes that actually prevent Google from indexing your site. And, while Yoast SEO takes care of many technical issues under the hood, it should be set correctly to do that properly.
If you were ranking well before, but suddenly disappeared from the search results, go over your site's security and make sure you weren't hacked! If a site is hacked, existing content will decrease in ranking as well. New posts won't rank as easily as they used to do. This will all evolve rather slowly, depending on how much crap is published on your site, without you knowing it. In most cases, getting hacked probably isn't the cause of ranking troubles. But if you're sure none of the other problems apply to your site, it may be worth looking into. Of course, it's always a good idea to make sure your security is tip-top!
How to fix it:
First, make sure that Yoast SEO is indeed set correctly. In the first step of the Yoast configuration wizard you're asked whether your site is ready to be indexed. If you answer 'no' and forget to change it to 'yes' later, your content will not appear in the search results! But, if this is the case, you will see a warning in your Yoast SEO general dashboard, so that's easy to check. For individual posts and pages that aren't ranking: check the 'advanced' tab in the Yoast metabox underneath the post whether search engines are indeed allowed to show the post in the results. Keep in mind, that after you change a setting to allow search engines to index your content, it may still take a while until you see it starts ranking.
If your Yoast plugin settings are all correct, it's time for some more digging. Check your plugins and/or theme and make sure your security is in order!
3. Your site doesn't have a proper internal linking structure
Another reason why your content doesn't show up in the search results: a crucial part of your SEO strategy is not in order. Don't underestimate the importance of site structure – the internal linking structure – for your SEO strategy. Having a clear site structure leads to better understanding of your site by Google. If your internal linking structure is poor, chances to rank high are lower – even when your content is well-optimized and awesome.
How to fix it:
Start adding those links! Make sure that your important posts and pages have the most internal links to them. But don't randomly add links: make sure you add relevant, related links that add value for your users.
You can use the Yoast SEO orphaned content filter to find posts without incoming internal links. Yoast SEO premium will help you even more by offering helpful linking suggestions as you're writing. And if you really want to improve your site structure, check out our site structure training!
Read on: Site structure: the ultimate guide »
4. There are few backlinks to your site
If you just started out with your website, your content won't instantly rank. Not even if every page is optimized perfectly and every bullet in Yoast SEO is green. To be able to rank, you'll need some links from other websites. After all, Google has to know your website exists.
How to fix it:
In order to get (more) backlinks, you can reach out to other websites. You'll need to do some PR or link building. Ask them to mention your site or talk about your product and link to your site. You can also use social media to get the word out! Learn all about link building strategies in our All-Around SEO training!
5. You're targeting the wrong type of intent
One final thing that could be the reason your content isn't ranking: it doesn't match the intent of people searching for your keyword. Search intent is becoming an increasingly important factor for search engines these days: do people want to buy something, go to a specific website, or are they looking for information? Even if you're targeting a more long tail keyphrase, if your content doesn't match the dominant intent of searchers, odds are search engines won't show it in the results because it won't be what people are looking for.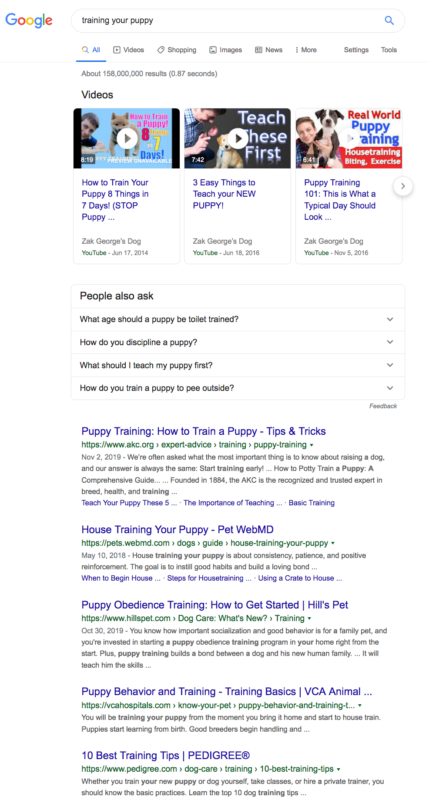 Let's look at a few examples. Say you're a dog trainer who wants to rank for puppy training services, so you optimize for [training your puppy], with transactional intent in mind. But if you look at the search results, you'll see that there are informational videos, and all the results explain how to train a puppy yourself. So searchers actually have informational intent. This can work the other way around too. If you've written a step-by-step guide for your blog on how to make your own garden decoration, aiming to rank for [flower garland garden decoration], you may have trouble ranking for that term if people just want to buy that, not make it themselves.
Now, it should be noted that not every search term has one dominant type of intent. Also, it isn't impossible to rank with content for differing intent. Still, it can be worthwhile to look into this if your optimized content doesn't rank in the search engines.
How to fix it:
Unfortunately, you don't have the power to change the intent of search engine users. But you can adapt your content strategy. If your optimized content isn't ranking, take a good look at the search results (preferably in private mode) and analyze what you see. Is one specific type of result dominant? Are there images or videos? Which related queries are shown? This is where your opportunities are. If you find mostly informational intent for a query, you can write content about that to get people to your site, establish your brand as a reliable source of information and stay top of mind when people do want to buy something. If you find a lot of images in the search results, you may need to focus more on image SEO. Take what you see on the results pages
Optimized content not ranking?
There are multiple reasons that could prevent a post from ranking. If you optimized it correctly with Yoast SEO, the most common cause will definitely be that the competition in a niche is just too fierce. Unfortunately, SEO is a long-term strategy. You need to work hard and be patient. In the meantime, there are a lot of other aspects of your SEO (site structure, link building) you can tackle. Try to focus on all aspects of website optimization, try to be that best result. It will pay off eventually!
The post 5 reasons your content won't rank – even though it's optimized appeared first on Yoast.