Google Search Console (or 'GSC' for short) lets webmasters monitor and manage their websites through an official portal, and is crammed full with useful statistics. Having access to tools and data provided directly by the search engines can make optimizing your website much easier!
It's a communication channel
Search Console accounts are the main, and official way in which Google communicates with individual site owners. By having a registered account, Google can send webmasters information about site issues, errors, or even penalties. It also provides some limited tools to allow you to contact them about site issues and feature requests.
It's a control center
If you're actively optimizing your website, you'll understand that SEO is never 'finished'. You need to be continually improving your content, refining your site settings, and minimizing your errors.
Search Console provides tools which help with this day-to-day management. It lets you do things like submit and monitor your XML sitemaps, ask Google to (re)evaluate your errors, or see how Google sees particular pages and URLs on your site.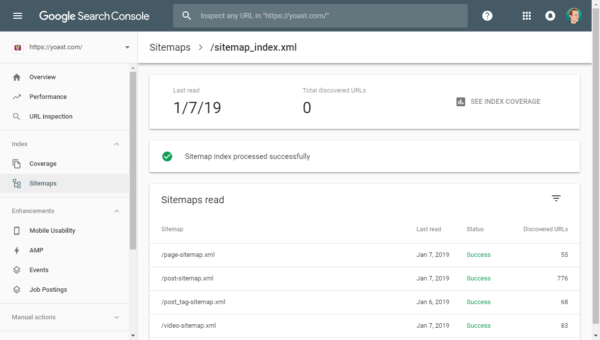 It's a performance dashboard
Your GSC account is full of useful information about how your website is shown and performing in search results. From mobile usability reports to visibility and clickthrough tracking, and much more.
If you're serious about managing and optimizing your website, your GSC account is your nerve center for understanding when, where and how your site is appearing in Google.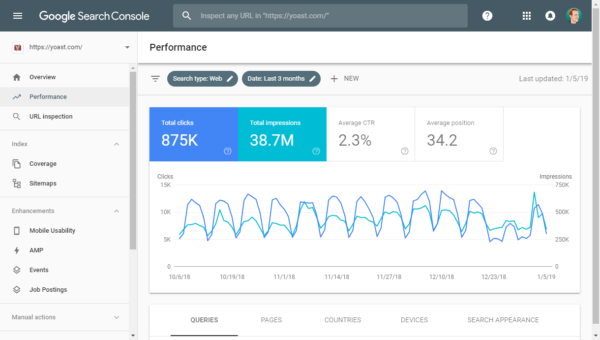 It's a data source
Most of the data in Google Search Console can be extracted and integrated into other systems, like Google Analytics, and Yoast SEO!
That means that, if you're running a Yoast SEO plugin, you can integrate some of your GSC data directly into your website. This can make it much easier to manage your errors, analysis, and redirects!
Check out our great guide on how to get that hooked up, and how to take advantage of the integration.
Ready to get started?
Anybody who runs or manages a website should be able to access a Google Search Console account, for free.
There are a few different ways to create and authorize your account, but the easiest is to integrate through Yoast SEO – just follow this quick guide to get things running!
Once you're all set up, why not take a tour around Google Search Console with our great beginner's guide?
The post What is Google Search Console? appeared first on Yoast.