Yoast SEO 11.4 is out today. This release features loads of structured data improvements. We've improved the way Yoast SEO Schema works with AMP, plus we've enhanced our FAQ blocks and added them to the graph. Find out what Yoast SEO 11.4 is all about!
First: Our next live SEO webinar is coming up! Be sure to join us on June 26 for the Big "Is it a ranking factor??!!" Show! »
Once again: Schema
We're still working hard on making our new structured data implementation even more awesome. In Yoast SEO 11.4, we're not only improving the way we handle some things, but also reintroducing our FAQ structured data blocks.
As a reminder, please read our Schema documentation if you are interested in why we're doing this and how it all came together. The release post of Yoast SEO 11.0 has a lot of background information as well.
FAQ structured data now in the graph
One of the latest rich results Google shows is the FAQ. To stand a chance of getting these highlighted in Google, you not only need an FAQ on your page but also FAQPage structured data. Luckily, Yoast SEO comes with structured data content blocks for adding FAQ pages to your site. These only work with the WordPress block editor.

The blocks are incredibly easy to work with:
Pick the FAQ block
Add a question
Give an answer to that question
Add an image, if necessary
Repeat for all your question for this particular FAQ
Our blocks automatically generate valid FAQPage structured data in the background. Google is now ready to pick it up, like it did with this page: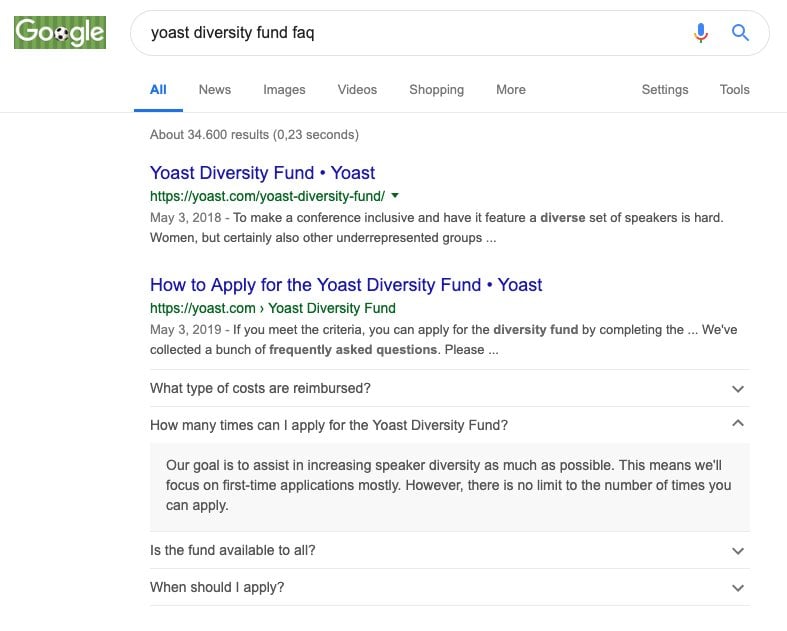 In Yoast SEO 11.4, we've improved the code generated by our FAQ structured data block following Google's latest changes. In addition, we made sure all data is nicely stitched into our graph. For FAQ pages, search engines now not only can identify these pages as an FAQ but they can also figure out how these pages fit in the grander scheme of things.
To get this done — and to make it as flexible as possible —, we're introducing a new action and a new filter. The wpseo_pre-schema_block-type_<block-type> action allows you to change the graph output based on the blocks on the page. The wpseo_schema_block_<block-type> filter lets you filter graph output per block.
You can read more about this new API in our Gutenberg Blocks Schema documentation.
Now also on Reader mode AMP pages
The new Yoast SEO Schema implementation works perfectly well with modern AMP pages, but there where some issues with the Reader mode (formerly known as Classic mode). These issues have now been fixed.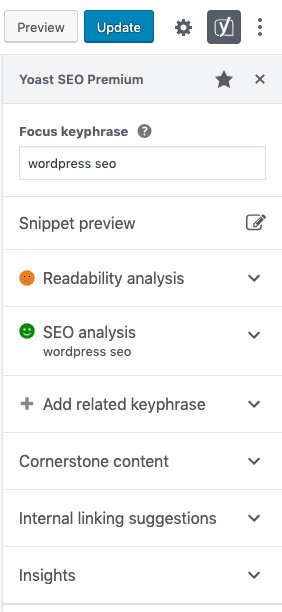 UX improvements
We're doing a number of design changes to clean up the sidebar and meta box in order to improve UX. In this release, we've moved the Focus keyphrase field to the top of the meta box and sidebar, making this essential item much easier to find. We've also linked the SEO and readability scores in the Classic Editor. A click on these items now leads to the corresponding fields in the Yoast SEO meta box below. Stay tuned for more UX improvements in coming versions of Yoast SEO.
Update now
In the release cycle ending with Yoast SEO 11.4, we've fixed a number of bugs and enhanced our Schema implementation. The FAQ is the next item to be added to the graph and there's more coming up. We've also started work on improving the UX of the meta box, making it easier to use and enhance the discoverability of the features.
Find all changes in the changelog for Yoast SEO 11.4.
The post Yoast SEO 11.4: FAQ structured data in the graph appeared first on Yoast.