In Yoast SEO 9.0, we launched an innovative new way to analyze your English language text using word forms. In Yoast SEO 10.1, we added word form support for the German language. Today, we're glad to announce word form support for Dutch. Here, you can read why this is such an awesome addition to Yoast SEO 13.4.
Word forms?
Back in the day, Yoast SEO used to be rather picky — sometimes it had a hard time detecting the focus keyphrase in your text. For instance, if your focus keyphrase was [vegan pancakes], the plugin wouldn't recognise instances of the word [vegan pancake] or [pancakes for a vegan friend]. Today, however, the WordPress plugin is so much smarter.
Now, your focus keyphrase doesn't even have to be in an identical order. The plugin finds all parts of the keyphrase even if the words are split over a sentence.
Yoast SEO Premium takes it one step further. Using the Premium analysis, something like [How to make the fluffiest pancake that even the most critical vegans love] would count as well.
One of the coolest parts of this is that Yoast SEO Premium recognises all word forms of your keyphrase: [vegan], [vegans], [veganism] and more. This way, you don't have to keep trying to awkwardly fit your focus keyphrase in your text. Simply write naturally and let Yoast SEO take care of the rest. The goal? To write a better text, while spending less time optimizing!
The same goes that other epic feature in Yoast SEO Premium, the possibility to add synonyms and related keyphrases to your post analysis. This too, makes it easier to write a rich, high-quality post that covers all aspects of your subject.
Word forms: now available in Dutch
As of Yoast SEO 13.4, users in the Dutch language can get in on the action too. For every language we add to the plugin, we need to adapt the analysis. Every language has its own sets of rules, you know? We have a team of linguists working on this and bringing you top notch language support.
How does this work in Dutch? Well, here's Marieke explain it all for you — in Dutch this time!
Let's take a look at an example! In the screenshot, you see the Premium analysis at work. The focus keyphrase for this example post is [spelen met katten]. If you look closely, Yoast SEO Premium won't just find the exact match to that keyphrase, but also several variations.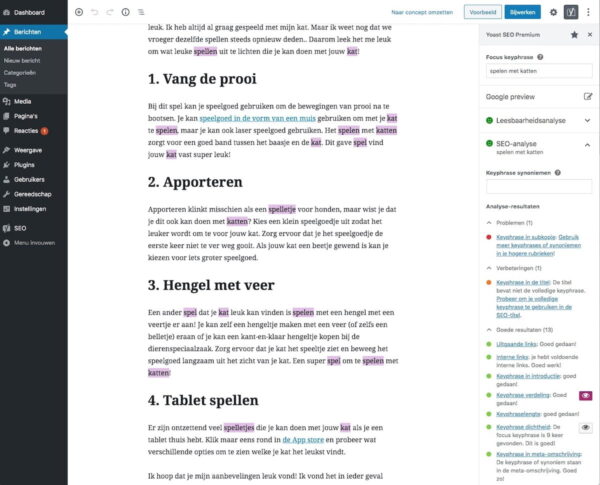 If we look at the word [kat], or cat in Dutch, the plugin now recognises variants on that word as well. So this means, [katten], [kater] and [katjes], among other things, are correct instances of that keyphrase as well.
In the Premium analysis, you can add a number of related keyphrases to make the text analysis even richer. One of the outcomes of this, is that it helps to determine if you have distributed your keyphrases well across your text. All this helps you write the awesome your audience is looking for!
More information about the Yoast SEO analysis
We've written quite a few articles on word forms support and text analysis in Yoast SEO. Find why you need this super smart analysis in your daily life. Learn how synonyms and related keyphrases help enrich your articles. Marieke wrote an article on why you should go beyond exact keyword matching. Keen to learn more about the technology behind this? Read up on keyword stemming!
To cap if off, here's the Dutch version of our infographic that explains the differences between synonyms, word forms and related keyphrases.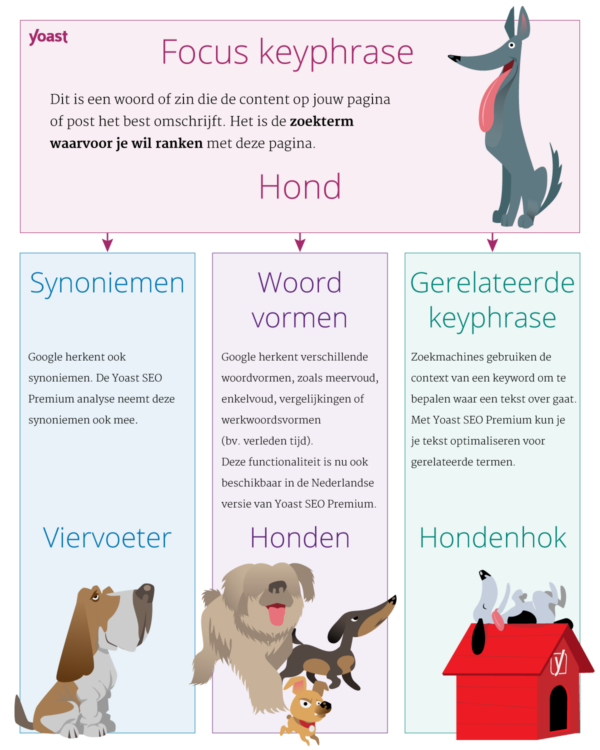 Update now to Yoast SEO 13.4
Yoast SEO 13.4 brings a big feature for all you Dutchies: full word form support! This state of the art analysis helps you write better text with a lot less effort. Writing and editing a great piece of content has now become much more natural.
Writing in English or German? But not familiar with the Premium analysis yet? Try it and tell us what you think!
Thanks for using Yoast SEO.
The post Yoast SEO 13.4: Word form support for Dutch appeared first on Yoast.