Yesterday, Google announced a new addition to the rapidly expanding lineup of enhancement reports in Search Console. This time, it's all about video! You can now not only see how your video performs in search, but also if your videos have valid structured data so they are eligible for rich results. Need help getting your videos noticed in Google? We've got just the thing!
What's this Video enhancement report?
Video is incredibly important. Humans are producing an huge amount of video and surfacing the right one at the right moment is a real struggle for a search engine. Google now gives you two new tools to help you improve the performance of your videos in search. The first one is all about helping search engines figure out if there is a video on a site. The second one is about visualizing your video's performance in search.
By adding structured data to your page, you can identify the most important elements plus its characteristics. By doing this, you make it crystal clear to search engines what is what. As a result, you might be awarded a rich result if the search engine deems your content the best fit for the query. For videos, this might include information on a video's duration, upload date, and other metadata, as well as previews.
Google is pushing structured data very hard and this latest report shows how important video has become for them and for you. You can now see how your video performs and if there are any technical errors or warnings that keep it from performing better. From here, it's an easy fix.
But how can I get this for my videos?
That's easy: the Video SEO for WordPress add-on for Yoast SEO! As you might know, we launched a massive and innovative Schema structured data implementation in Yoast SEO 11.0. This was the first implementation of its kind — the first to completely tie the content of your site together in code so search engines are eager to gobble it up. Not only that, by connecting everything a search engine now knows what goes where and how it all fits into the bigger picture. This is all available for free in Yoast SEO.
Our add-ons extend this structured data implementation. The Video SEO plugin, for instance, adds specific structured data for videos. And the awesome thing is: you don't have to do anything to get this on your site. It's all automatic and it all ties neatly into the rest of the structured data we generate for your site. Just install Video SEO.
Here's how the new report picks up our structured data, without us having to do any additional work. You can even see the source code by clicking on an example URL.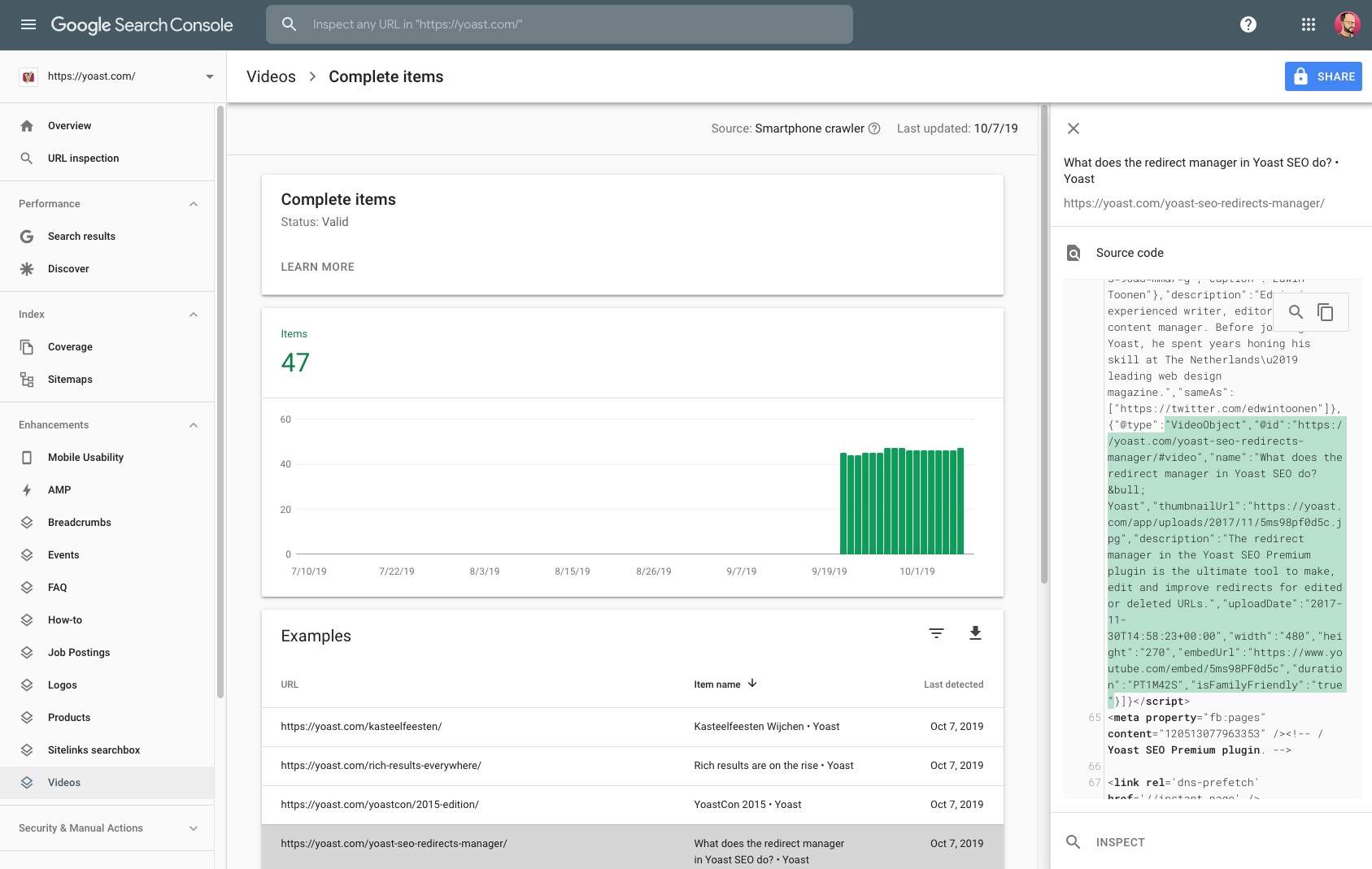 So, if you need search engines to understand your videos — who doesn't? — you need Video SEO for WordPress!
What else can I do in the Google Search Console Video enhancement report?
The Video enhancement report not only shows you if Google has trouble understanding your video content, but also how your videos perform in search. In the Performance tab, you'll find a new Search Appearance type for video. This overview gives you an idea of how many times your videos appear in search and many people click on it. Of course, you can filter it to your hearts content.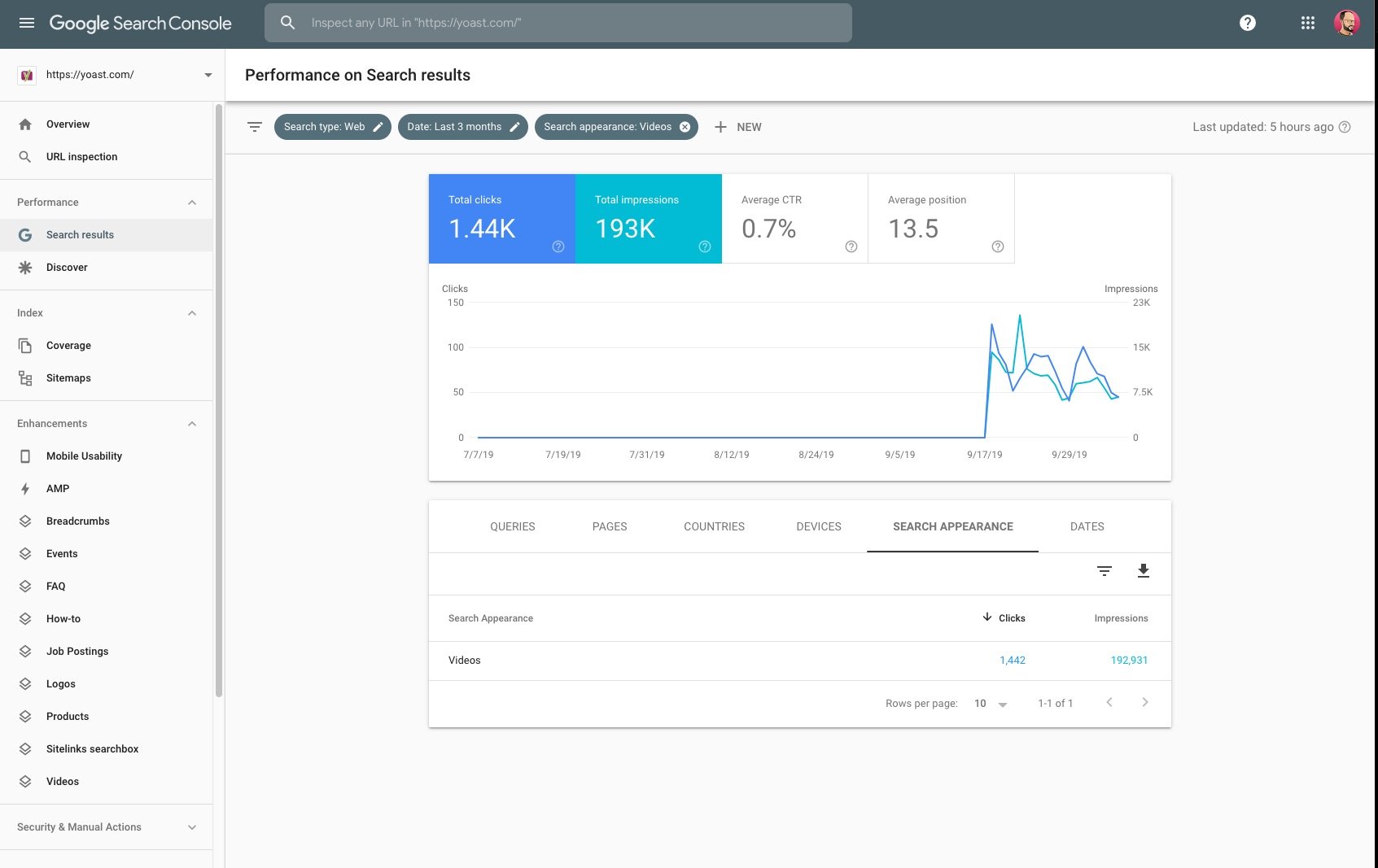 Help search engines understand your videos
The new Video reports in Google Search Console go a long way in helping Google identify videos via valid structured data. Not only that, it gives you the insights you need to help identify issues and improve performance. All in all, this is a great addition to the treasure trove that is Google Search Console!
The post Get Google's new video reporting with the Yoast Video SEO plugin appeared first on Yoast.