You'll probably have heard the term user journey a lot, but what is it exactly? And what does it have to do with SEO? The user journey consists of all the steps a user takes to reach their goal. In buying something, the user journey includes steps like reading reviews, checking prices, comparing shops etc. In SEO, you can map out the user journey and place content on all the points a user comes into contact with you. Let's take a look.
Your user journey: how do you purchase a product?
The concept of the user journey becomes instantly clear when you are looking to buy something. Let's say you want to buy a new tv — your 15-year old 42 inch LCD tv doesn't cut it anymore. You do research and ask yourself some questions: how big should it be? Which screen technology? What about 4k or maybe 8k for future-proofing? Do my friends have any advice? Which shops can I go to to see some screens in action? You go through a whole lot of steps before you are ready to pull the trigger on a new tv.
That proces, from the moment you realise you need a new tv to the moment you turn on the new tv in your home — and even after that fact — is called the user journey. As an eCommerce store selling tv's you need to know how a user might get from A to Z and prepare useful content for the moments when that user might need that content.
Now, you might think that you can simply think about which steps a user might take in any given situation and put that on some kind of timeline. Well, it's more complicated than that. If you think about it, your process of buying something might differ completely from someone else's. You can't force everyone to follow the same path.
In addition, the user journey is hardly ever a straight line, more often, it's a squiggly line moving in all directions. Users go from awareness, to research, to checking prices, to research, to talking to friends about it et cetera. Eventually, the user makes a decision — some users take hours, other months.
This also goes for how people behave on websites. They hardly ever arrive neatly via the homepage only to follow the path you want them to follow. In different stages of the journey, people need different kinds of information and they will, therefore, enter your site via different pages — probably the one buried deep in your site. After that, they can move in any kind of direction. That means that every page on a site needs to consider multiple user journeys, and act as a landing page. You can't assume that there's a linear/predictable flow through a site.
Mapping the user journey makes it easier for users to find what they need to come to a decision. For site owners, it offers a helpful guide to where what kind of content should be to help speed up this decision making process.
Classic marketing still applies
Thinking about user journeys automatically lets you think about all those classic marketing funnels. The AIDA model — over a hundred years old —, for instance, is a good fit for making user journeys insightful. AIDA stands for:
Attention: get your potential consumer to notice you
Interest: find a way to hold that attention to build interest
Desire: persuade the consumer to make them want your product/service
Action: get the consumer to make that conversion
AIDA is often appended with another letter, the S for Satisfaction — or the R for Retention. This is where you keep your customer once that sale is done, be it in excellent customer service or guiding him or her to their next purchase. You have to try and get some kind of loyalty. For many things, you don't want to simply convert a sale, but also a customer for life and a champion of your brand.
Mapping the user journey helps structure the process
Mapping the user journey helps you make sense of what you need to do to turn that potential customer into a loyal returning one. Once you start researching, you'll probably find a number of holes in your strategy or thought-process. You'll have missed a couple of entry points and discover thinking that hadn't occurred to you. Once you find this, you'll also notice that there is a lot of content missing that should have helped potential customers in their journey towards you.
Mapping done well, you'll have a solid story for your customer's process and a guide that helps you take away all pain points.
How to map out a user journey?
The most important thing for mapping a user journey is getting inside the potential customer's mind. These are the people doing the travelling and they know what they do to get somewhere. Don't think you can make up stuff by yourself or your marketing team. Talk to people! Also find out what they're saying on forums and social media like reddit.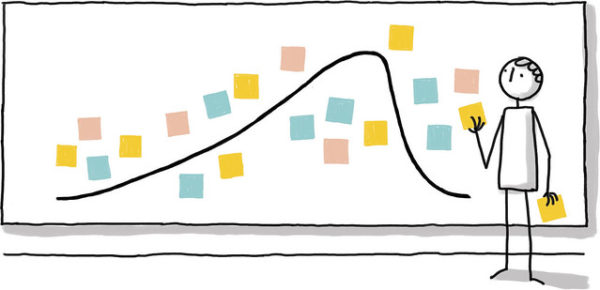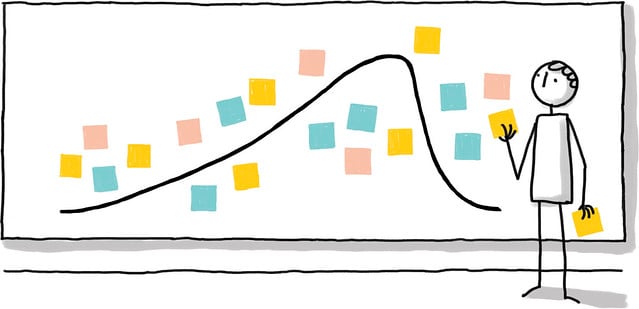 Mapping a user journey can sometimes feel like releasing the kraken — it can become unwieldy, like something with a lot of tentacles. It is, therefore, a good idea to limit the scope somewhat. Set clear objectives, know when a task ends and don't try to fit everything you do into one user journey. Research specific tasks for specific people and go from there.
Define scope
Before you start, you need to have the basics questions answered. Who are you? What is your mission? Which problems does your product or service solve? Who is your audience or who do you think your audience is? Know yourself before you jump into a research project with the wrong knowledge.
With that out of the way, it is often a good idea to make a high-level overview of what you want to achieve. Consider how you think the user will behave on this particular journey. Don't go into detail, but simply make a quick visualisation of the process — this helps you to define the scope of the user journey. Keep in mind, you won't know the exact user journey until you do the research. Don't stick to these assumptions, please.
By mapping out a journey from A to Z, you get everything and the kitchen sink but that's probably not what you need. It's often better to focus on a sub-journey powered by a specific scenario. This makes it easier to develop, maintain and improve.
For instance, if you offer SEO training courses, you might want to map a journey for people unaware of SEO that encompasses everything from becoming aware of the plusses of SEO to learning of SEO courses to finding your specific SEO course. That's a whole lotta journey, so to say. In this case, you could make a high-level overview and fill these in with more detailed sub-journeys. That makes creating and mapping content to them easier as well.
In addition, it is good to think about who you are targeting. Are you targeting everyone? Probably not! By narrowing down the user profiles, you can get more specific in your journeys. This way, you can take the experiences of a user, for instance, into account.
Start researching what you have
If you've been in business for a while, it might be that you've done a lot of user research already — both qualitative and quantitative data. Maybe you know your customers inside out. Have you interviewed customers, cool! Asked them how they use your newsletter? Nice. Got a whole bunch of keyword research sheets? Awesome. Did eye tracking tests on your new website? Epic. Go over every bit of research you have done and collect the most valuable insights that can help advance the development of the user journey.
Take special note of your keyword research. If you haven't done keyword research properly, you need to get to it. Search volumes and popularity of certain phrases can be helpful insight into what people want/need, and you can react accordingly. In addition, looking at the kinds of sites which rank for those keywords is useful. If the results for a particular keyword are mostly informational, for example, it's probably worth considering that those searches are from people early on / in research phases, and your content/ui/etc should react accordingly.
Determine what you need
Once you've pored over the available research, you get an idea of what you need to form a full picture of your user/customer. You might notice a couple of patches that haven't been discussed or questions that haven't been asked by your customer. Make lists of all the questions you still need to answer before you know to fill in the user journey. Don't assume anything. Don't fill in the gaps yourself before doing the research.
Perform your research
It's time to fill in the gaps. Once you've written your research plan, you can start your research. To get a good grasp on the way users are behaving, you can use all kinds of ways to get those answers:
Conduct customer interviews with specific questions
Direct observations
Field studies
Competitive analysis
You can combine these qualitative insights with quantitative insights, from survey data, Google Analytics, sentiment analysis et cetera.
Structure the results
Once you've gathered all the data, you can start structuring the results. How you do this is up to you, but you could use the following buckets to structure your data and the user's thoughts and expectations.
Actions: which steps does a user take to advance the journey?
Motivations: how do they feel about the process?
Questions: which questions do users ask themselves while trying to advance the journey?
Obstacles: what stops them from advancing?
Combined, you'll get a clear sense of the user journey. In addition, you'll also get an idea of the obstacles you need to take down to help the user progress without too much friction.
Visualize the results
The most recognisable part of the user journey is the visual that supports it. User journey visualizations come in all shapes and sizes. Pick one that you can understand and that fits what you want to achieve. Here are a couple of examples:
Once you've built up the user journey, it's a good idea to try it for yourself. Maybe even let real customers or users do the journey. Ask them if it seems logical? Do the steps jump around? Maybe it's too narrow or too broad? This all helps to validate the journey and take out any assumptions you might have made.
Map content to journey touchpoint
Now, you'll have the full scope of the user journey in focus, so you'll notice all the points where a user or customers comes into contact with you or your product. These so-called touch points are great entrance points for high-quality, and extremely relevant content that answers all the questions the user has at that particular moment in the user journey.
It's time to start mapping your content to these specific touch points. We'll explain how to do that in another post. While thinking about your content, keep the old AIDA model in your mind: how do you get attending and arouse interest? And once you have that, how do you get people from visitors to customers — and keep them there?
SEO is only part of the user journey
The user journey contains, more often than not, almost everything you do as a company. If you want to successfully help a potential customer from A to Z, you need to have everything in order. As users often start their journey by typing a query in a search bar, SEO plays an important role to get them relevant content when they need it. SEO, however, is merely a part of the machinery that forms a successful journey.
This probably goes without saying, but your product or service should be truly valuable and good. There's no sense in getting people to try a subpar product. Marketing 101, right? The same goes for your branding. It has to be recognisable, genuine, unique and befitting of your company. Your site has to be technically awesome, filled with relevant content and looking incredible and trustworthy. The user experience should be stellar. Practice holistic SEO!
The consumer experience should be impeccable as well. Your potential customer is going to do a lot of research, both online as well as offline. So make sure that your companies profiles are well-tended. Get those five star online reviews and respond to the negative ones. Have active social media accounts that send out relevant content and respond to users' questions.
Also, think about what you are doing offline. Are you running ads anywhere? Sponsoring events? Holding your own event? Think about ways to get into the minds of people without having to resort to the internet. Many people will want to form a good picture of how you are, what you do and if you are deserving of their money, so to say.
A primer on user journeys for SEO
This post gives you a solid overview of the use of user journeys for SEO. User journeys help you make sense of how users behave and they help you produce relevant content that answers questions and converts. Even if you don't launch a full scale research project for this, thinking about how a user behaves and maybe even talking to a couple of them gives you great insights that might further your business.
The post What is the user journey in SEO? appeared first on Yoast.