In Yoast SEO 12.6, we're activating our new beacon for help documentation. This tool helps answer the questions you might have about using Yoast SEO. It's easy to use and very friendly. Just hit that big purple question mark and search! Other improvements in Yoast SEO 12.6 includes a number of fixes and enhancements. Read on to find out more.
New way of helping you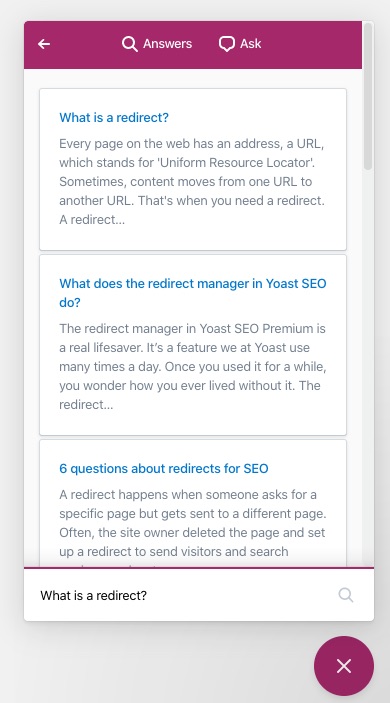 Our previous help center was not always as apt to provide the best answers to your questions. In Yoast SEO 12.6, we've removed the old help center and in its place added a beacon powered by HelpScout. This beacon — you'll notice the big purple question mark in the lower right-hand corner —, is quick, smart and very helpful.
The new beacon allows us to present not only helpful articles for our knowledge base, but also from our SEO blog, for instance. This lets you not only access a ton of information about what you are working on, but also provides you with enough context to explain why you are doing this — or why the plugin does what it does.
So if you search for something in the new beacon, you're searching all the content we have. Hopefully, the results will be satisfactory! In addition, Yoast SEO Premium subscribers can contact our support team from the beacon. Please let us know what you think. The beacon is now available in all our plugins.
Fixes and enhancements
Today, we're updating all our SEO plugins. For Yoast SEO, we're continuing our work on several larger projects and focussing on behind-the-scenes improvements in 12.6. In addition, we've fixed several bugs and added a couple of enhancements, like the aforementioned help beacon. 
Other notable changes are the new description property we've added to the schema's WebSite node. This means your site's tagline can now be part of your site's graph, giving search engines extra context about it. We've improved the Meta Robots Advanced field in the advanced section of the metabox by simplifying the options and wording around that feature.
Chris Thompson helped us fix a PHP Warning that pops up when using an empty string in the OpenGraph frontend output. We've also upped some of our requirements. We've set the minimum required WordPress version to 5.2, and the minimum PHP version to 5.6.20. Last but not least, we now show a notification to encourage Internet Explorer 11 users to use another browser as we are no longer supporting that browser.
Yoast SEO 12.6: update now
That's Yoast SEO 12.6 in a nutshell. We've ironed out some kinks and introduced a massively enhanced help center based on beacons. Please update to the latest version whenever you're ready!
The post Yoast SEO 12.6: Getting help in the plugin is now easier appeared first on Yoast.